1) Rapala® Jointed Shad Rap Lure (Chartreuse Black) : Rs 1200/-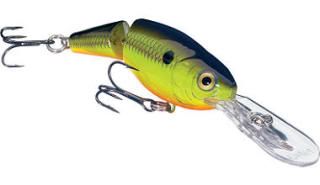 Pull this lure out after a cold front passes and forget about having another relaxing day on the lake. Jointed construction with a loud rhythmic rattle mimics and exaggerates the action of a wounded baitfish. And when you pause the retrieve, this lure suspends its depth just like the real thing, provoking even the wariest lunkers into striking. Forged black nickel vanadium cone-cut hooks ensure quick, sure penetration on hooksets. The Classic Pattern features a clear deep-diving lip and two black nickel hooks, while the Bleeding Patterns are specially patterned with bleeding gills, red deep-diving lip and two red hooks for the ultimate wounded-minnow presentation.
2) Rapala® Shad Rap Lure (Silver) : Rs 1200/-
The Shad Rap is responsible for more fishing tournament wins than any other hard bait. It has a precise action, fine detailed finish and proven fish-catching colors. It is excellent for casting or trolling for walleye, bass, salmon, trout and northern pike.
3) Rapala® Original Floating Lure (Silver) : Rs 1200/-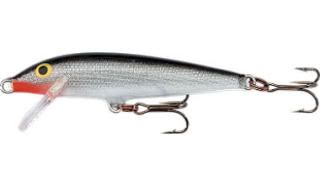 The Original Floating Rapala can be fished using a steady retrieve, stop-and-go retrieve or as a twitch bait. No matter how you fish this classic bait, it's guaranteed to bring 'em running. This lure has proven itself in a variety of conditions over the years
4) Berkley Trilene XT Extra Tough Line - 1000-Yard - Clear : Rs 1350/-
This extra-tough line is ideal for rugged fishing conditions like brushpiles and rock bottoms. 1,000-yard spools.
Color: Clear.
8lb. test.
Buyer Pays for Shipping