Hi Rustam,
all three hooks displayed in the links of this thread have been in use during my last trip to Cauvery a few weeks ago. I caught most of the fish on the Mustad pattern and all fish I had hooked properly came out without any problem. But: I only managed to hook into smaller ones up to 14 pound. So I can't give a guaranty that they would resist the strength of a big one. My friend Andreas managed a 25 pound fish while using the Gamakatzu pattern (life bait B). I tried the Gamakatzu Circle Octopus as well, but the 7/0 size I had with me really seemed to be too big for the size of fish that was running those days. Generally I think that nowadays there are many different hooks that should work well for mahseer.
The guides are all married to Owner, but personally I very much dislike these hooks. A fresh Owner just from the packet is a great weapon for Mahseer, but I find it very difficult to get them sharp again. All hooks used at Cauvery -or for such/similar kind of fishing- need to be treated with a sharpener several times a day. For the Owner I have the feeling that you never manage to get close to the original sharpness again when treating them with sharpening devices. Also I witnessed a Owner hook breaking during fighting a good fish.
Changing of hooks/expense of some of the models: Nearly all of the patterns suitable for mahseer are expensive. As you don't want to lose the fish of a lifetime I think you just have to invest this money.
Personally I also refuse to use the hooks for a longer period as 2 or 3 days, even if they're still sharp or can still be sharpened without problems. I feel that some fish that have been lost because of broken hooks could have been a safe capture if the hooks in use wouldn't have been that old. I feel that all the rocks inside and outside the water do some damage to every hook after some time. What is happening under water after your ragi is gone? Is the hook lying motionless on the ground or is getting pushed from stone to stone by the current? Most metal parts of a crab or chilwa baited hook are exposed and get pushed to stones again. In my opinion this could and should do harm to our hooks –even if no damage is visible on the surface- so I try to replace my hooks from time to time.
Dirk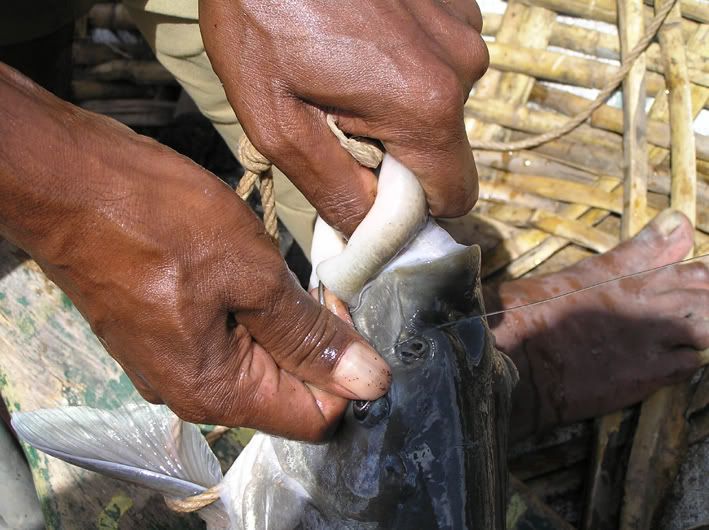 Here you maybe can see the very safe hookhold of those Mustad hooks.