Hi Guy's,
Posting a fishing story on behalf of my friend Patt ,with some excelent picures taken in the US. He is a member of our forum. For those in the south who don't him, he runs his own outfit out of Noida and knows all the good rivers and streams in the North, and has been at it for a long time now. Also does some writing from time to time.
Hope to hear from you regularly from now on Patt.
Regards
Owen
Hi Owen,
Trust the appended story explains my silence.
I'm sending the pics that go with the story by a second email.
I couldn't figure out how to share this on the IndianAngler site, so if you do, please go ahead & post/host it.
All the best,
Pat
[b][bRainbow Trout Fishing in Southern Pennsylvania
By Patrick Kerr
During the end of May this year, I spent a couple of great days with my brother Michael in a rural part of South Pennsylvania. Michael is in the process of becoming a Doctor of Psychology and studies at the University of Pittsburgh, his second major subject is Environmental Studies and - if you ask me - this is a subject that's probably closer to his heart than Psychology.
Early on morning Michael, my son Raoul (aged 12) & I went out fishing in a little creek about half an hour's drive away from where Michael lives. The morning was hazy & nippy after the previous evening's rain as we drove along the wet roads that wound their way through the densely wooded hills.
America, in some ways, is a simple & straightforward country; we drove over a ridge named what else but "Windy Ridge". I then noticed a little black bird with a flash of red on it's wings hovering over a field feeding on insects. "Do you know the name of that bird?" I ask Michael. "Red-winged Blackbird" was his laconic reply!
We drove past a set of little farms spread over both sides of the road, a set of four farms, two on each side of the road and spread out with quite a bit of land between each farm. A road sign on the curve in to this habitation warned "Hearing Impaired Child - Drive Slow" - the local highway authority had taken the trouble to warn passing motorists of the possible hazard of one hearing impaired child that lived in this quiet part of the country in one of those four lonely farms!
"That's where I saw turkey last season," said Michael pointing out to a spot down in the valley. The whole region is densely wooded and there's coal everywhere. We drove under a railway bridge just as a freight train passed over us. There must have been close to one hundred freight cars on that train - all full of coal - and definitely the longest train that I've ever seen in my life.
"See that property there?" asks Michael as he points through the front windshield. "There's a vein of coal running right under it and the coal-mining company offered the owner two & a half million dollars for the property. The owner demanded six. The company countered with three but the owner didn't back down. The company dropped all negotiations and spent eight million dollars to cut a tunnel around that property & begin mining the next vein!"
"That farm was sold to the coal company for four million dollars," continued Michael as we drove on, "but when they started mining they found that it was not commercially viable and have withdrawn all mining activities. The sellers have moved south and now live happily ever after in Florida."
We reach the road-head and turn off onto a track leading downhill. The vegetation gets denser and he going is a little tricky with the car's wheels slipping & sliding on the unpaved, wet road. "Welcome To State Game Land - Hunt Safely" announced a signboard nailed to a tree. "Wow!" says Raoul "what a civilised country! They actually welcome you to hunt!"
We park the car in a designated parking spot at the end of the track. There's just one more car there so we're quite happy to have almost exclusive fishing rights to the little creek.
However, I'm not fishing today. State law categorises me as a 'Foreigner' - I neither belong to the country nor the state and the minimum period for which a fishing licence is issued is one week. The cost of the licence for me was way out of my budget so I grudgingly accepted the roll of photographer as Michael and Raoul (kids, any kid under the age of 15 years is allowed, or rather, encouraged to fish for free) get their gear on. They step into their waders, assemble the light spinning rods and fit on the spin-casting reels. Michael then opens his tackle box and selects a lure for Raoul, "I caught a big one with his spinner last week. Use a slow retrieve." said Michael as Raoul clipped the little spinner onto his snap-swivel.
We take a couple of pictures with the signboards in the background and then follow a path through the wet hay field running along the edge of the creek. The hay is waist-high and soon drenches me. Michael & Raoul, in their waders, are unaffected & a few steps further down the path, the two of them carefully make their way down the slippery banks of the creek & wade into it's murky waters. The water has been discoloured by the evening rain but Michael judges the colour to be OK for fishing with the shiny spoons that they're using. I stay up on the high bank of the creek and watch them fish.
Michael is tall - he stands up to six feet and four inches to my even six - the family legend says he grew taller than me, his older brother, because he took out his own tonsils at the age of four. His 'scalpel' was a pointed stick that he was chewing on when a playmate tripped him by stepping on the over-sized flip-flops that he was wearing!
Raoul, being the age that he's at, stands at an even five feet in height. I was conscious of this difference in height as I looked down on the two fishermen, a little boy & a grown man with a common passion - the great outdoors.
"Cast there," instructed Michael, "watch out for those roots just underwater there. Don't go too far in as you'll be over the depth of your waders." Soon, Raoul was into a small Small Mouth Bass - a four inch long fish - too tiny to keep. The Bass was quickly de-hooked & released.
Looking around from where I was standing, I noticed a large track of the hay field had been flattened out so I set out to explore and left the fishermen to their fishing. I walked into the patch of flattened hay to find that this was wher e a herd of White-tailed Deer had sat out the early morning. They had probably waked across the field to the creek, drank water and then bedded down here while the sky lightened into a new dawn.
The two fishermen climbed up to where I was & after studying the signs in the flattened hay, tended to agree with my conclusions. "Lets cut across the field and fish upstream of here" said Michael pointing in the general direction in which he wanted us to move in. Ahead of us was a low and treeless hill. "Red Indian burial ground," said Michael. "Such places were considered sacred by the Indians & they brought their dead here for burial or decomposition, as decided by the Medicine Man of the Tribe."
We walked over the barren hill half expecting to stumble on an old bone or skeleton but there was nothing there except shrubbery & grass. On the other side of the hill was a Jeep Track. We go onto this track & followed it to an old iron bridge. Here, the fishermen went fishing again & I continued with my explorations of the wilderness while looking for photo opportunities & picture compositions on constant offer in my immediate surroundings.
The bridge was old & rusted. Some of the support angle irons were so rusted that they crumbled when I applied a little pressure on them with my boot. But the load-bearing members were solid & this was the real strength of the bridge. "1906" was a date on a cast-iron plate along with the name & address of the manufacturer. I immediately began picturing the scene form one hundred years ago... at this very spot. "They must have carried in the bridge in a CKD condition on a horse-drawn wagon," I thought to myself. "And that's where the set up camp..." my mind continued building the images of the past.
"Fish!!!" I heard Raoul shout. I walked onto the bridge to watch him reel in a nice one & a half pound Rainbow Trout as Michael in a gentle voice, gave him advice and instructions. And then Michael was into a huge fish. He fought it for a full fifteen minutes and successfully landed a five pound Rainbow.
Both the fish were 'keeping size' and we put them on a fish stringer before tossing them back into the water to stay fresh. Bridges are always good fishing spots and this old one too proved to be no exception to the rule. The two fishermen continued downstream while I stayed at the bridge keeping an eye on the catch.
Waiting under the bridge, I collected litter as a pastime and I soon had a nice little heap of empty beer bottles & cans. Exploring a further fifty feet, I found a bottle of Salmon Egg bait but, knowing what to expect if I opened it, I kept the bottle tightly sealed. Discarded fishing line & a broken fish stringer were soon added to the little pile under the bridge as was the wooden mouthpiece of a cigarillo. Now, with nothing better to do than wait for the two fishermen to return, I dug a hole in the ground a little away from the creek and buried my collection.
Raoul & Michael returned without any further catch but the three of us had no complaints. Two fish for the table were more that what we needed & the priceless experience of being so close to nature and the clean, fresh environment was more than a feast for the soul.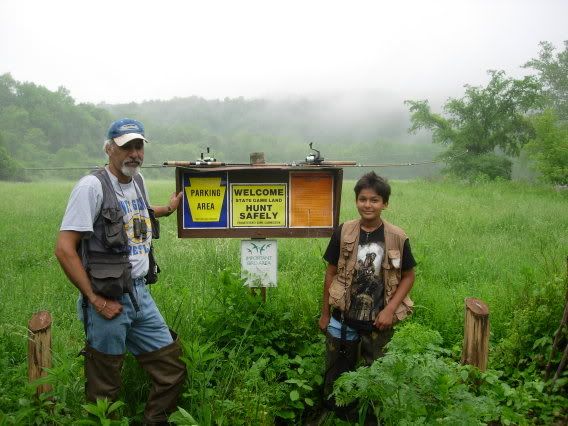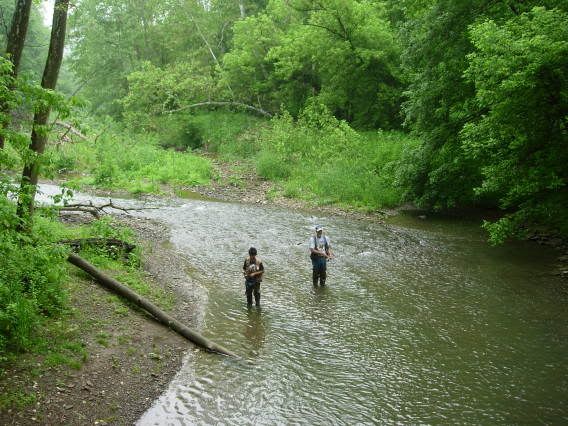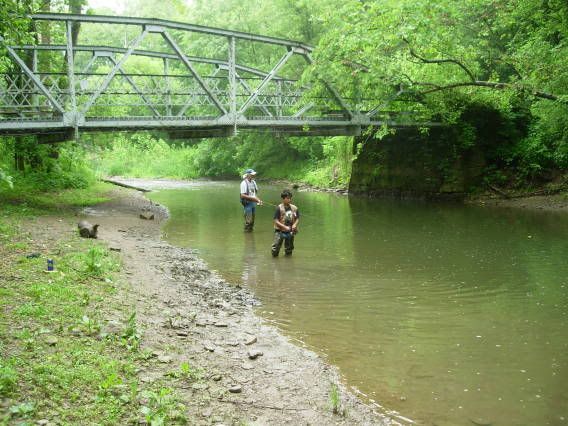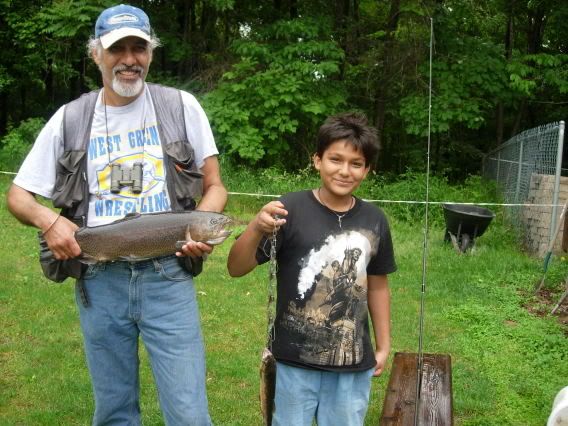 Rustam Bana wrote:
Navdeep,

It's a good idea to go to your local tackle store because they can guide and help you get started. Hopefully, they aren't the type who are just after your money.

Whilst there also check what fishing licences, if any, are applicable and ask them for contact details of the angling clubs in your area. A club would be a good place to learn the basics and see what sort of tackle is being used and for what.

Rustam