Hello to all!
I registered on this site some two years ago and haven't posted since! This is largely a result of having been somewhat overawed by the depth of knowledge and expertise here but I would love to participate and learn more! That wasn't going to happen unless I described my own fishing so here goes.
I suppose this is about an angling location so I decided to post it here.
Most of the fishing in Bangladesh, which is where I live, is coarse fishing i.e. for Rohu, Catla, Mrigal, and other Labeos or related fishes and it is in stocked ponds, large and small. There is some fishing for silurids, mainly Boal (walllago attu) in our rivers. At two particular times of the year there is fishing for Labeos in our rivers as well.
However, this post is about my very own fishery.
We, as a family, are tea people. We cultivate tea in estates in the north-east of Bangladesh. My younger brother and I dammed a small valley in one tea estate and set aside the resultant lake for angling. We then set about stocking it with fish suitable for the sport.
What followed is a long and trying tale of misadventure, of home-cooked fishery science mixed with local folklore (a fatal mixture), of fish that refused to grow because the water was too acidic, too alkaline, too starved of plankton, too cold, too hot, too muddy, too clear, you name it! Fish that refused to grow because the amount of feed given was inadequate, died because there was too much feed, the feed was not of the right sort, and finally because there were too many fish and not enough fish and the fish came from hatcheries where genetic make up was not in the vocabulary. In other words they were seriously inbred and of the wrong parentage! My brother and I were entirely in agreement wih the last!
There were plagues of stunted and interfering tilapias and 'Thai Barbs'. These were dealt with by an inoculation of boalis which grew in exactly 18 months from 500 gram hit and run specialists to 10 Kg terminators! They had only to open and close there mouths to grow! By the way, a ten kg. boali will encompass a two kg. rohu with an alacrity that will leave your average fish eating Bong (inc. self) in rapturous applause! The lake had to be drained and restocked to get rid of them!
Nevertheless if you leave fish in water long enough they will grow. They will not be world beaters and you will scale your tackle and ambitions down to suit them. Thereafter every rohu over a kg. will be greeted with celebrations that would dim the reception to a century by Mr. Ganguly at the Eden Gardens. Enough! The place has its own beauty (if you have nowhere else to go) !
Incidentally, once a year we put in a net to see how the fish are doing. They are all released after that. Well, almost all! We Bongs must have our fish on Pahela Baishak ( The Bong new year).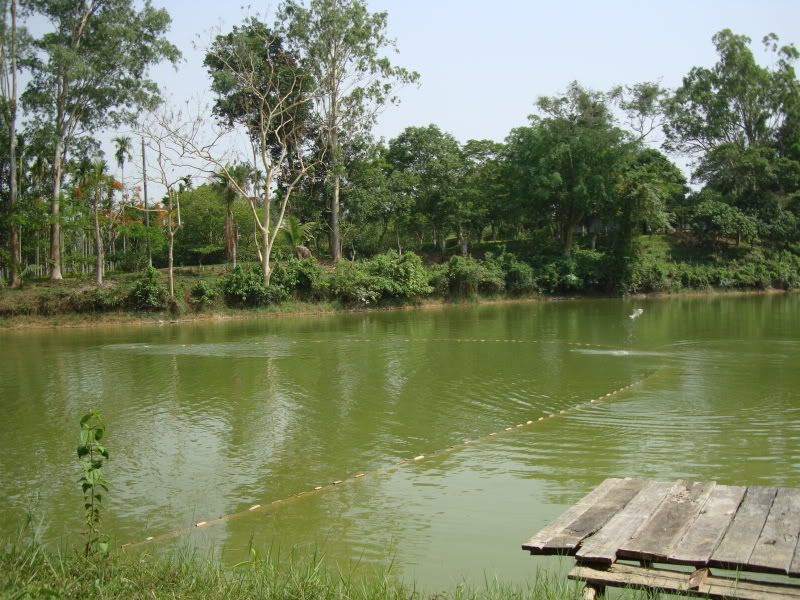 View of the lake - Catla in the air.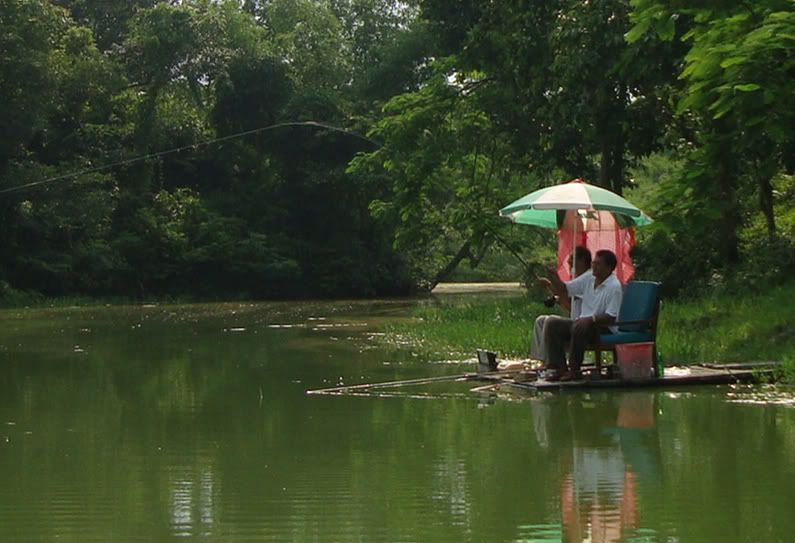 Fish on!

Leapers!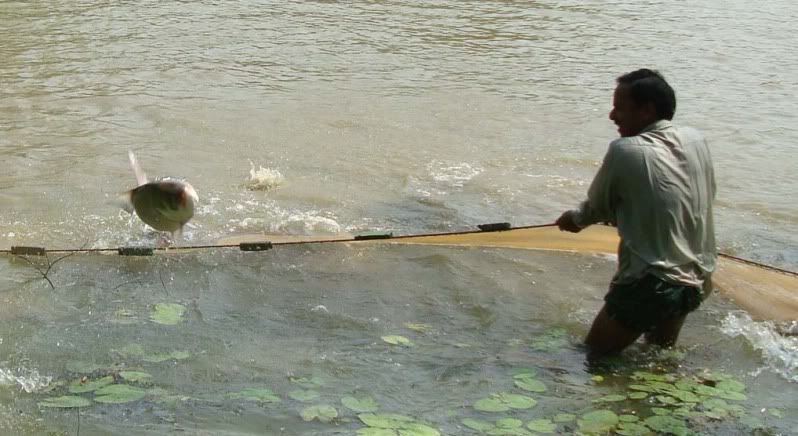 Incoming!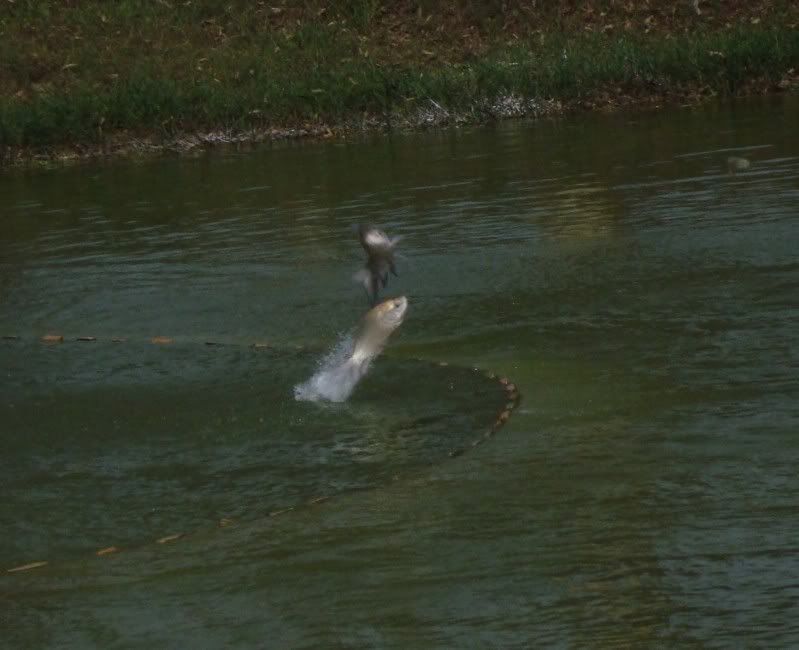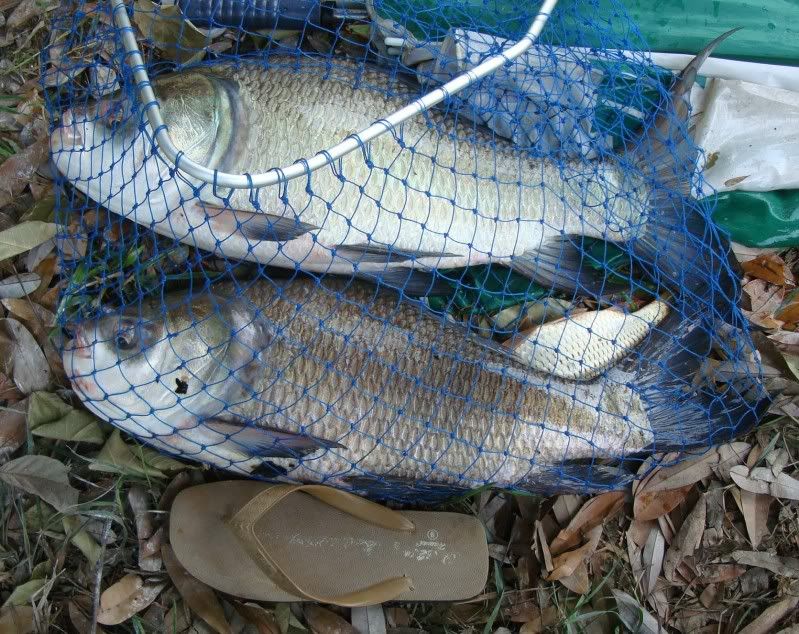 Catlas
Rohu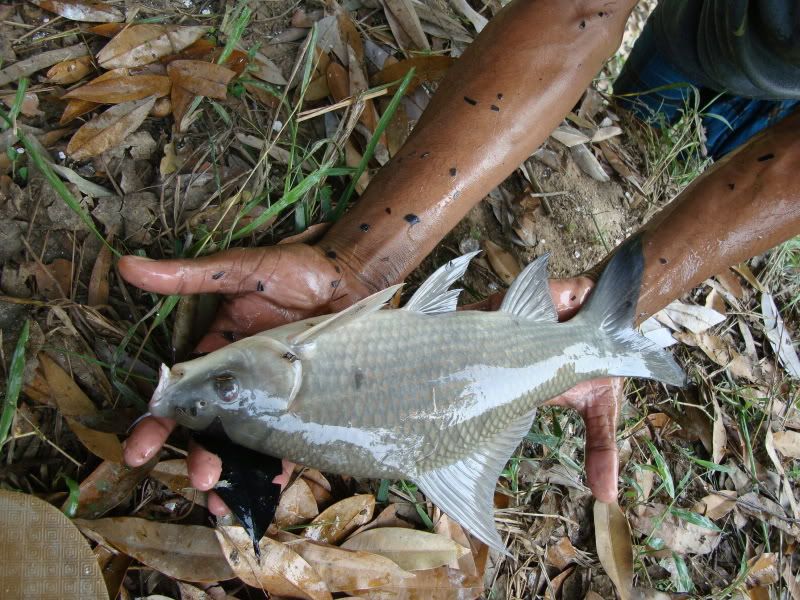 Kalibans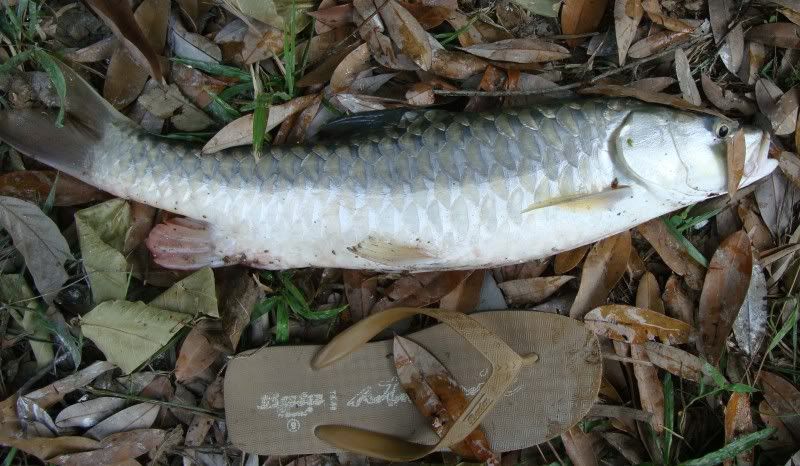 Mahseer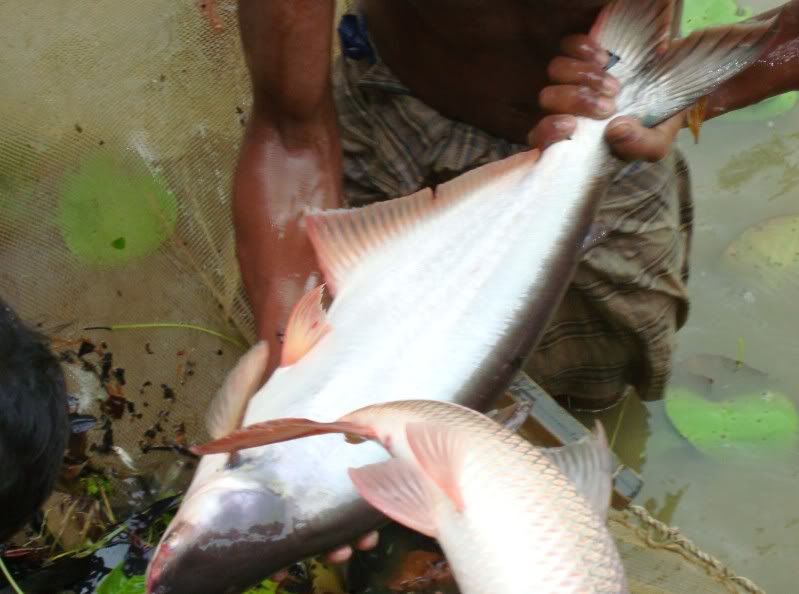 Pangwas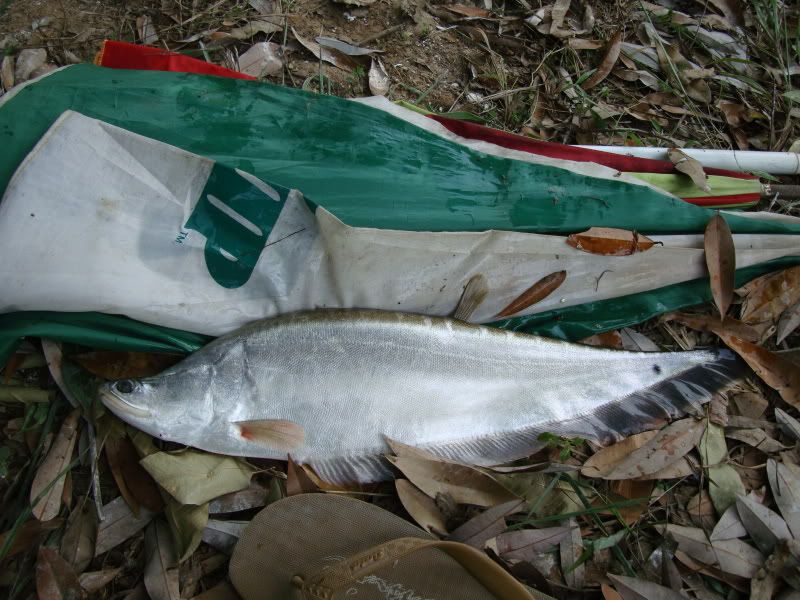 Clown knifefish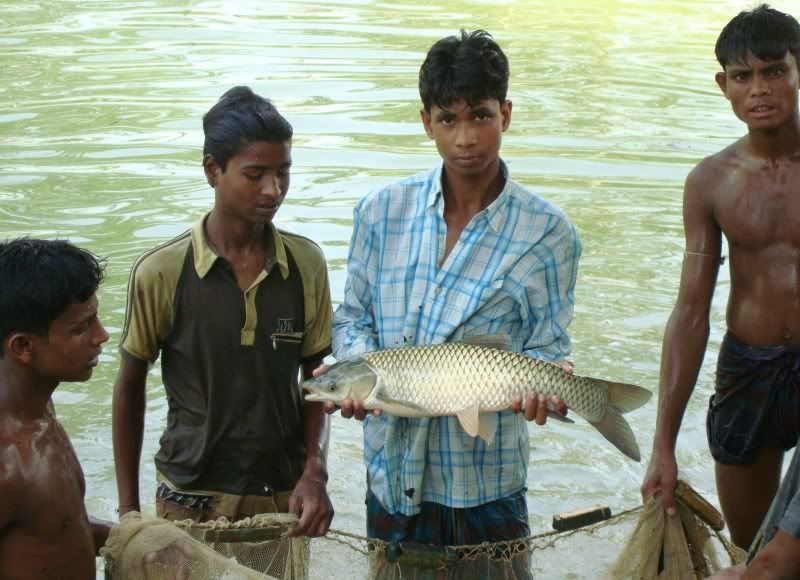 Grass carp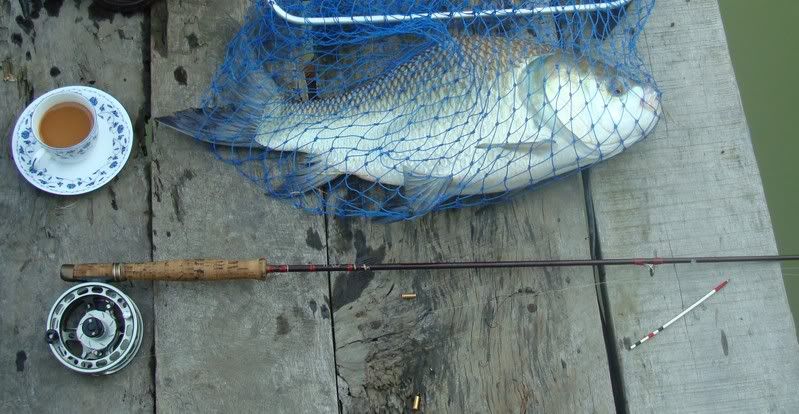 Catla on 5 wt. fly rod. Bottom fishing.
How its done!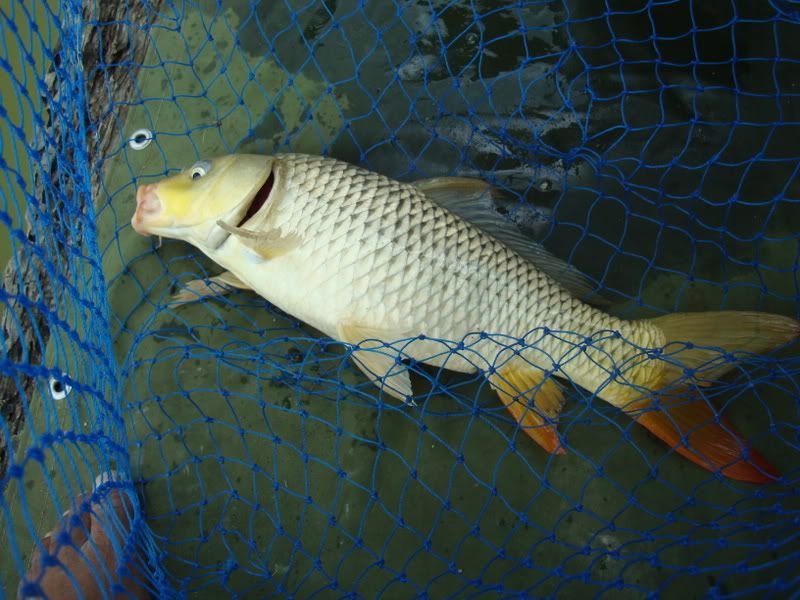 Common Carp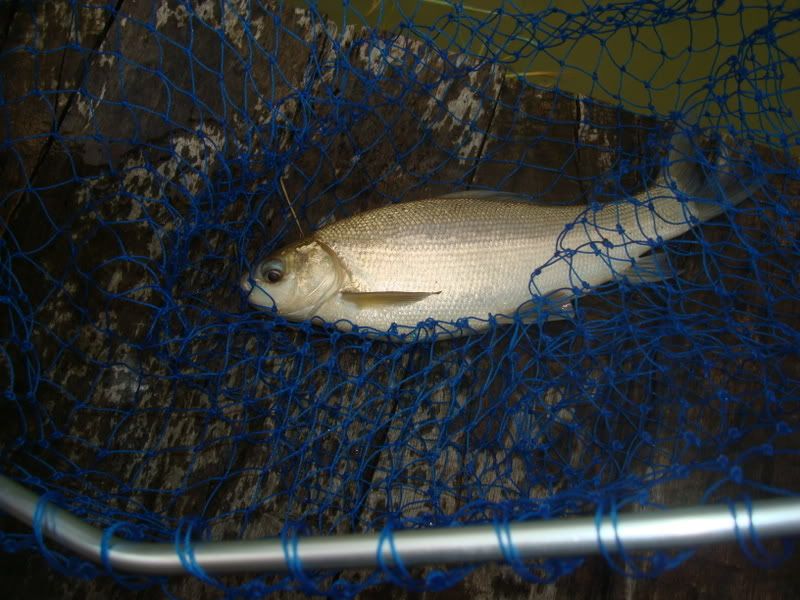 Ghonia (Labeo gonius)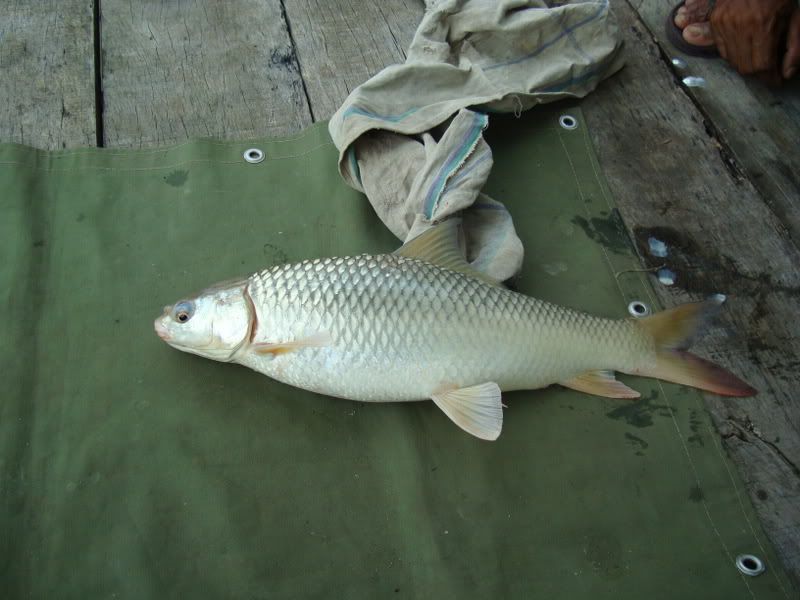 Mrigal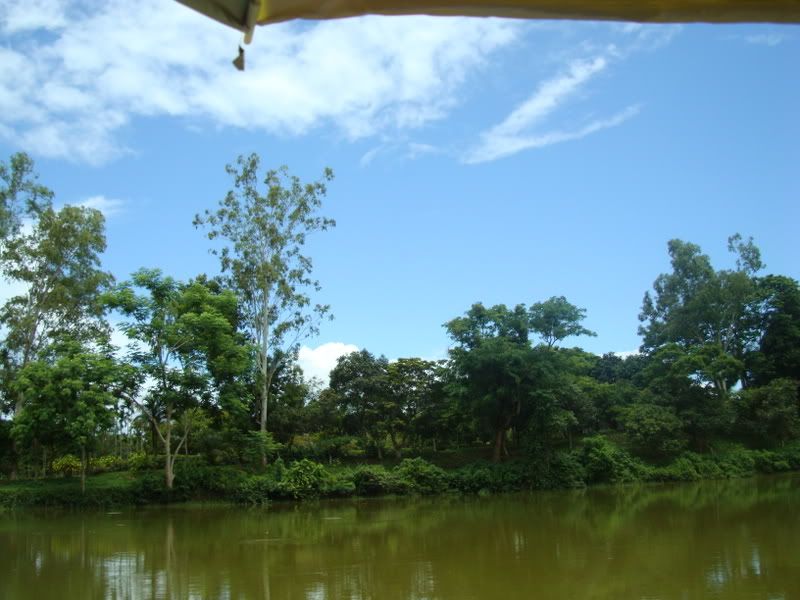 View of the lake from one of the fishing platforms.
I doubt if there is a six kg. fish in the lake but they provide a world of thrills.
If any Indianangler is in Bangladesh please do let me know and I will be only to happy to put him/her on to some fishing. You are all welcome to visit the lake pictured. It takes about three hours by road from Dhaka, the capital.
All the best
Lakhyaman