Actually, its nice to get renamed -from the PHG to the marral mob
Sanjay and I decided that the next trip to bangalore must include some fishing...
So things seemed to fall into place this time around- a bit too fuch fall, as in rainfall, though
Heave anchor at 5-30am on 1st Sep, Capn Bana at the helm of his fav Gypsy and we do many knots-WASI here we come.
Indradhanush was the pitstop for authentic idli,vada ,sambar and dosa and that heavenly mysorean coffee.
Reach WASI, unload, rig up
and off to Forbes.!0 am to 2 pm in the coracle had my ancient bones a bit creaky,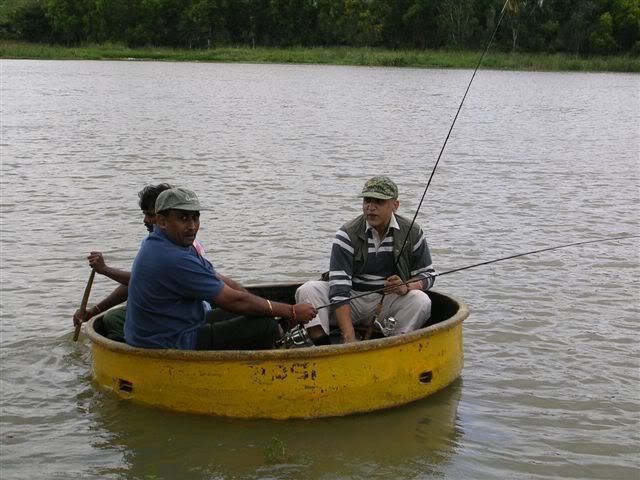 not to forget the old spinal injury...paid off -Sanjay lived upto his nom de guerre of 'dances with fish' and pulled off a marral;
after a previous hook up decided to show him how a lure is spat out, south indian ishtyle...Ah, a visible sigh of relief from Rustam and me-this was his first trip to the famed WASI area and water was thicker and muddier than chicken corn soup as found in the eateries of Delhi.Owen had told me about it the previous day, and also his 8 & 9 kg carps.
We returned back to the cottage and I whipped up Mr.Marral for pre dinner 'snakes'-befitting the snakehead?
Post dinner was -headworks.Clamber up and then down on that narrow spit-the first sign of life was 4-5, foot long fish facing UP the fast current flow! Eyes on top of the head, Fresh water mullet ?
Sanjay lost another hook up, who came off the bounce straight onto my Uglystik with 8lb ironsilk line and 1/0 single hook. Used a hook bait of Bread, coconut oil, vanilla esence...A short fight later, it was Master mahseer.Very kind of them to send enough fish for the rod!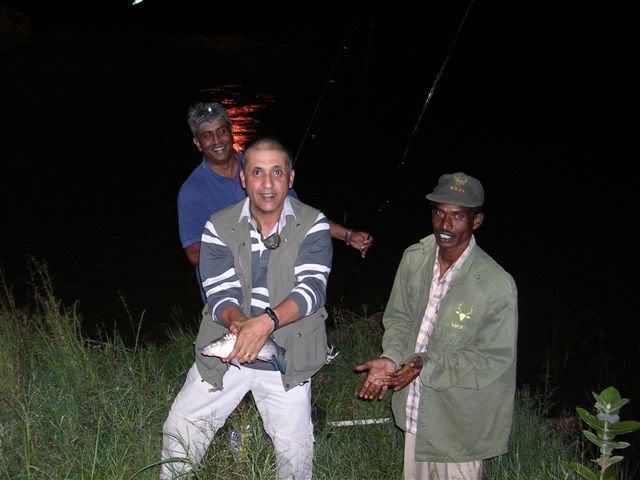 A while later, we head back to the cottage , say 11pm ish, and sleep the sleep of the peaceful...
Next day started with me trolling around the weed beds for marral, no luck, while Sanjay and Rustam were at the jetty.
I came back and set up the new Fox Trekker 12ft, 3.25TC 6 pc rod, mated with Shimano 8000 and no.8 hook. Lots of splashes, a few nibbles bt no go.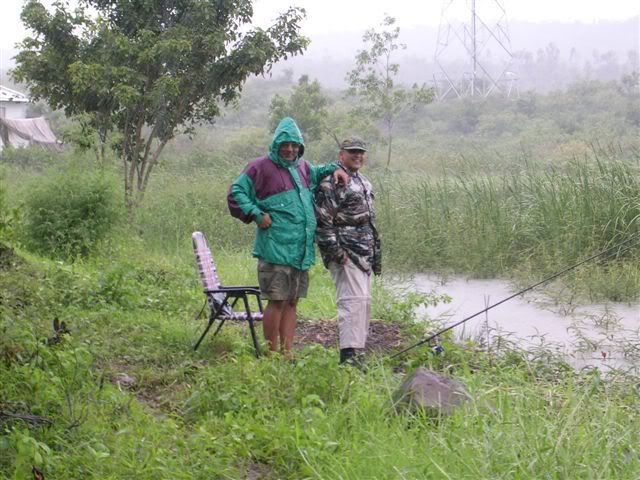 Changed over to the eternal Ragi/ hing fav, still no luck. The skies open up, so we togb up in raincoats and spin away, Rustam this time is using a float.
Raju lands up with our cordon bleu lunch of rustic chicken, rice , chappaties, and -RAGI Mudde's for me-Ah if there was heaven on eart then, it was at the WASI cottage, chomping Ragi mudde and chicken curry...awesome.
The rain doesent stop, we do, pack up and head for bangalore and home.
Another hit and run expedition by the PHG/Marral mob stands successfull!
Thanks Rustam, Sanjay, Mr.Murral and Master Mahseer, not to forget Raju and his gang of Ghillies.
Axx